Zap Fat (Using the Narl 517): A la carte slimming solution
The Zap Fat system features ultrasound lipolysis for guaranteed slimming results. Key benefits include:
No Scarring, No Injections, No Complications
These days everyone struggles to get rid of excess fat in some hard to reach areas that diet and exercise alone cannot reach…
This machine is very successful worldwide and is now available here in the UK. Being the ONLY one in the whole of Lincolnshire. Why don't you be one to see the difference that this machine can do for you?
It's true! In just 10 minutes, 3 times a week using the NARL® [517] Ultrasound, clinical trails have successfully achieved a minimum of 1" to 3" loss from the treated area, depending on fat context, within a 4 week period. But don't stop at the waist — NARL® [517] Ultrasound is effective on arms, thighs, buttocks, abdomen, back and sides. So you choose where you want it to WORK!
Treatment takes just 10 minutes per session and is completely painless and noninvasive. A minimum of 12 sessions is recommended in a localised area of treatment. It's so safe you can move on to other areas when satisfied with the results… whole body sculpture!
To finalise the treatment exercise is essential within 60 minutes of treatment. 10 minutes on our vibrating plate or 20 minutes cardio.
What is the NARL® [517] Ultrasound?
Slim safely, painlessly and effectively WITHOUT surgery. The name of this unique, patented treatment stands for: Noradrenaline ReLease [NARL], which describes the physiological response to the procedure.
The NARL® [517] Ultrasound is the world's first scientifically-proven lipolysis [fat release] technique using safe and noninvasive ultrasound technology. Now it is possible to remove fat without surgery.
The device consists of 4 pads of ceramic cells which deliver ultrasound of a specific frequency and intensity. The pads or strapped in place on target areas of the body, the only sensation you feel is a slight vibrating.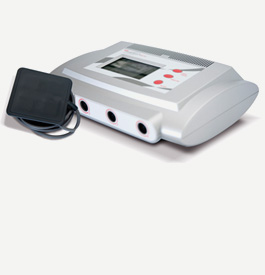 How the Zap Fat Treatment Helps You Slim-Down
What does is do?
By harnessing the body's natural hormone system at a localised level, the Narl® [517] mobilises targeted areas of fat, making them readily available to be burnt off by subsequent exercise — turning it into a source of energy used up within the body, carried away within the bloodstream. Clinical trials and scientific publications have demonstrated measurable fat loss in treated areas.
Where does is come from?
This unique technology was developed by Dr. Hiroide Miwa in Japan after 7 years of research in collaboration with universities and hospitals. To date over 7,000 Narl® [517] Ultrasound machines have been sold in Japan and Europe.